I know what it is like to be in a loving, committed, cherishing marriage with a foundation of deep respect and integrity with my husband, Opher. And from my first marriage, well let's just say I know the devastating effects of dishonesty, disconnection, and incompatible values. Both of these experiences have deepened my commitment to helping others develop the skills for genuine intimacy and connection.
My skills in counseling others began when I was about 12 years old. They were awakened when I attended sleep away camp and was shocked to learn that of my 12 bunkmates, my parents were the only ones who were still together. This left a profound impact on me, as evidenced by the impassioned letter I wrote home about it that summer.
I'm not your traditional Couples Therapist.
In my 30 plus years of practice, I realized some of what we were taught in therapy school wasn't helping my clients. You may have heard therapists should remain neutral, an "unbiased third party." Too often, this doesn't serve you. In fact, at times it perpetuates your marital problems. That's why I won't always stay a neutral observer. When needed, with compassionate firmness, I'll call out destructive, anti-relational behavior, help you speak truth to power, and bring you both out of an anti-relational stance into genuine, healthy intimacy.
I think of myself as a visiting conductor for the symphony of your marriage, guiding you both on listening, speaking up, holding back, waiting your turn… and then passing the baton to the two of you. My goal is for you to put me out of a job – I don't want you in couples therapy forever.
Most who come to see me are very good people, though some have been relating badly for far too long, damaging their relationships. Much of this was learned in the "relationship school" of the family where they grew up. Many, if not most, are highly successful professionally, but their relationships are falling apart.
If you are ready to do the work, my goal is to reconnect you to the relational person inside, freeing you from the destructive behaviors keeping you from connecting to yourself, your spouse, and your children; having the fulfilling relationships you've longed for.
Education and Background 
I've had wonderful mentors throughout my career, including my former supervisor, Esther Perel (author of "Mating in Captivity" and "The State of Affairs") and training in Relational Life Therapy with Terry Real (author of "The New Rules of Marriage" and "I Don't Want to Talk About It").
My parents were both entrepreneurial, having owned multiple successful businesses, including two roller skating rinks, a printing company, and an accounting firm. This led me to launching TCC, combining my desire to help people with their relationships and my own entrepreneurial spirit.
As a child, I learned self-discipline, focus, and determination through competitive roller skating. My parents instilled in me integrity, hard work, love, acceptance, and empathy.
I completed the Marine Corps Marathon four times, the Disney Marathon once, and numerous half marathons. I've been a Team In Training Mentor for the Leukemia and Lymphoma Society, dedicated to helping put an end to blood cancers, raising with my family over $30,000 for the LLS.
I'm also a wife, mother, step-mother, mother-in-law, dog mom, and chocolate lover. Paddle-boarding, fall festivals, singing with my daughter at the top of our lungs in the car, and gatherings at our home are some favorite activities.
BIOGRAPHY
Certified Relational Life Therapist
Gottman Level 1 Certified
Founding Member, Metro Marriage and Family Therapists (D.C., MD/VA)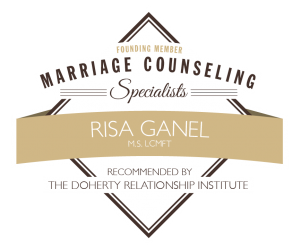 Board member appointed by Gov. Larry Hogan – Maryland State Board of Professional Counselors and Therapists 2015. Chair of the Board 2017 – 2020.
Private Practice – TCC, launched 2005.
President and Treasurer Middle Atlantic Division of the American Association for Marriage and Family Therapy (1999 to 2008)
Practicing since 1994, providing individual, couple, and family therapy in a variety of settings: Prince George's County DSS, The Woodbourne Center, The Children's Guild Group Home for Boys, Jewish Family Services.
Licensed Clinical Marriage and Family Therapist – Maryland (LCM033),
M.S. Marriage and Family Therapy, University of Maryland
B.S. Psychology, Hofstra University